This mini caramel cheesecake recipe will wow your friends and family alike. The detailed instructions on how to make hard caramel will ensure you end up with beautiful caramel shards to make these exquisite cheesecakes.
These caramel cheesecakes are so beautiful. I can't stop staring at them. I mean, look. Just look: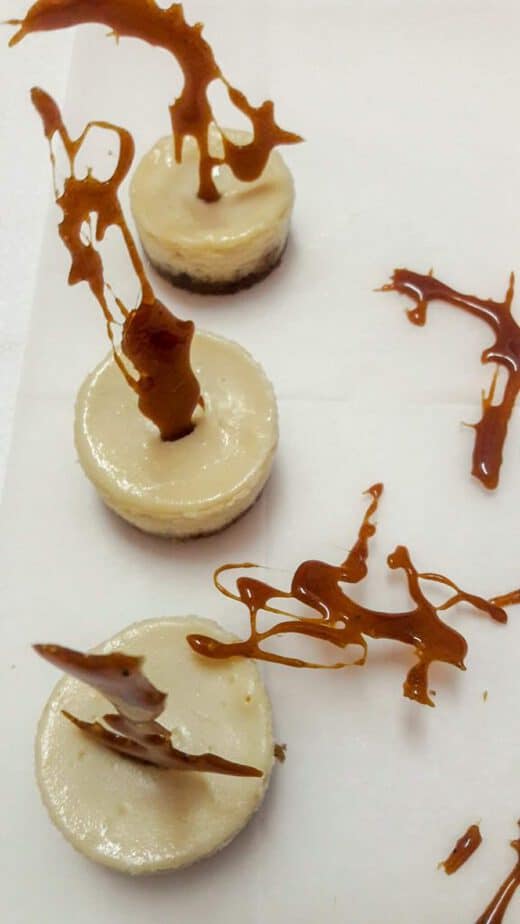 I'm not the type of blogger to add twenty fancy food pictures, but seriously. How can I not over here?
I'm also not the type to make fancy-looking food. (Well, I say I'm not the type. Really it's because I usually can't manage it.) So these came as kind of a surprise to me.
But I can't really complain about them. Because these mini caramel cheesecakes are sooo preeetttyyy…
I'm sure the main question you have (besides for how I manage to always be so awesome) is
How do you make the caramel shards?
Disclosure: Product links may be affiliate, which means I get a commission if you click through and purchase. This does not affect the price of your item.
Making caramel is something I've been working at for awhile. For some reason, I got in my head a few years ago that I want to make homemade caramel. And I tried a bunch of recipes, and read a bunch of "foolproof guides," but all to no avail. I ended up with lots and lots of hard sugar lumps stuck to my pans, but no caramel.
I stuck at it, though. Why? Nobody knows. But I did. And when I finally succeeded at making these homemade caramel shards, I felt complete satisfaction.
Lol jk it's not like these changed my life or anything. But it was pretty cool that I was able to make them.
Anyway, to make the caramel shards, here's what you need:
granulated sugar
water
nonstick pan
parchment paper
To check out my other recommended kitchen tools, click here: kitchen tools that make life easier
Step One: put the sugar and water in a nonstick pan
It doesn't really matter how much water you put in; you just need enough to get all the sugar wet to enable it to melt and become syrupy more easily. Don't be a smart-aleck like me and say "oh, who needs to add water, it'll all just cook out anyway." If you don't put enough water, YOUR CARAMEL WILL BURN. Make sure you put in enough water.
Step Two: place the pan over medium-high heat and begin to melt the sugar
Swirl the pan around a few times to combine the sugar and water. Leave the pan on medium-high heat, and keep swirling it every so often. Soon the sugar/water mixture will turn into a clear syrup.
Step Three: hard sugar crystals will form in the pan
At this stage, it is very important to remember NOT TO FREAK OUT. I used to always get here, and think oh no, I have these hard lumps of sugar, I screwed up another batch of caramel. But that's not true. Trust in the process. Keep the pan over medium-high heat, keep swirling it every so often, and eventually you will see the sugar lumps start to melt and turn into delicious, sweet caramel.
Step Four: leave the pan over the heat until all the sugar lumps are melted and your caramel has turned a deep amber color
This is another place I always used to screw up. I would take the caramel off the flame too early because I didn't want it to burn. While burning caramel is an issue you want to avoid, taking the pan off the heat too soon is not the way to go. The caramel isn't going to keep cooking once off the flame (unless you have a huge pot of caramel that has tons of heat retained inside of it, but if you do, I assume you are more of an expert at making caramel than I am and know what you are doing…). You need to keep the pan on the heat until the caramel has turned into, well, a nice caramel color. Once it is the color you want, remove the pan from the heat and quickly move onto the next step (because the caramel will harden into a solid lump as it cools…)
At this point, if you wanted to make a caramel sauce, you would add heavy cream and butter to the caramelized sugar and quickly whisk it in to incorporate. However, that is not what we are doing today. To make caramel shards, or hard caramel, all you need is the sugar and water.
Step Five: lay a piece of parchment paper flat on a table or work surface
I think this step is pretty self-explanatory. You are going to be drizzling the melted caramel onto the parchment paper, so make sure you have a large enough piece of parchment paper and enough room.
Step Six: quickly drizzle the caramel over the parchment paper using a whisk
Stick a whisk into the caramel until it is coated. Quickly shake the whisk out over the parchment paper, so the caramel falls off the whisk and onto the parchment paper in squiggles and swirls. Be warned that the caramel will harden almost instantly once it hits the paper.
If you want, you can try to be more precise and create specific designs, a la this viral video:
Step Seven: carefully peel the caramel designs off the parchment paper
The caramel is pretty fragile and can crack easily, so be careful, but you should be able to get a nice amount of beautiful caramel shards from one batch of caramel.
Now that you have your caramel shards, you can use them to decorate these mini cheesecakes!
How to make mini caramel cheesecake
Step One: prepare the crust
Place a bunch of tea biscuits or graham crackers into a Ziploc bag. Zip the bag closed, and then lay it flat on the table. Roll over the bag a few times with a rolling pin (seriously) until the biscuits are crushed. It does not need to be a fine powder; leaving a few larger chunks of cookie is ok too.
Once you have your crumbs, open the bag. Dump in oil, brown sugar, and cinnamon. Close the bag again, and mush it up into your hands until everything is mixed together. (Not mixing in a bowl = fewer dishes to wash. Hurray for lazy hacks!)
Pat a few spoonfuls of the crumb mixture into the bottom of each muffin tin (or, if you want to make one large cheesecake, press the crumbs into the bottom of a springform pan.)
Step Two: prepare the cheesecake mixture
In a large bowl, mix together soft cheese, heavy cream, sugar, eggs, vanilla, and flour until smooth.
Pour some of the cheese batter carefully into each muffin tin and bake.
Step Three: bake and cool the cheesecake
Bake the cheesecake cupcakes at 350F until they are set. And then here comes the important part: let them cool in the oven without opening the door. This helps prevent the cheesecakes from cracking. Let them cool in the oven for awhile, and then open the oven door a crack, and then a bit more, and then fully opened, until the cheesecakes are fully cooled and can be removed from the oven.
Chill the cheesecake cupcakes in the fridge for a few hours or overnight. (Cheesecake tastes gross when just cooked and still warm. Trust me.)
While waiting for the cheesecakes to the cool, why not check out CreativeLive's free online classes? They have all sorts of topics, from finances to art to photography, so you'll definitely find something you like!
Online classes not your thing? Then Check out Amazon's Kindle Unlimited program. Unlimited ebooks and audiobooks at your fingertips, plus the first month is FREE!
Once the cheesecakes have cooled, you can carefully remove them from the muffin tins (or cut open and peel off the disposable muffin tins from around the cheesecakes, which is what I did.)
Step Four: decorate the cheesecake with caramel
Remove the cheesecakes from the fridge and carefully stick a caramel shard into each one. You can stick one large caramel piece into each caramel cheesecake, like I did, or be creative and put different amounts and sizes into each one.
Only decorate the cheesecake with the caramel when you are ready to serve. If you try to decorate them in advance, the caramel will start to melt into the cheesecake (so then your cheesecake will taste good, but won't look as pretty.)
If you want to make these caramel cheesecakes in advance, refrigerate the caramel shards and cheesecake cupcakes separately, and assemble them right before serving.
Enjoyed this recipe? Then check these out:
Pin this recipe for later!
Caramel Cheesecake
Yield:
15 mini cheesecakes
These mini caramel cheesecakes will wow your friends and family alike. The detailed instructions on how to make hard caramel will ensure you end up with beautiful caramel shards to make these exquisite cheesecakes.
If you enjoy this recipe or find the caramel tutorial helpful please give it a five star rating!
Ingredients
For the caramel:
1/2 cup granulated sugar
3 tbsp water
For the crust:
30 tea biscuits
1/4 cup brown sugar
1/2 cup + 2 tbsp oil
pinch cinnamon
For the cheesecake filling:
2 cups 5% quark cheese, can substitute with cream cheese or Greek yogurt
1/2 cup heavy cream
1 egg
3/4 cup sugar
1/4 cup flour
1 tbsp lemon juice
1/2 tsp vanilla
Instructions
For the caramel:
Melt sugar and water in a frying pan over medium-high heat. Keep cooking, swirling the pan occasionally, until the sugar syrup has turned a deep amber color. (See detailed instructions and step-by-step photos in the post above.)
Remove pan from heat. Dip a whisk in the caramel and quickly shake it over a piece of parchment paper. Once the caramel cools, gently peel the hardened caramel shards off of the parchment paper.
For the crust:
Place tea biscuits in a Ziploc bag and zip it closed. Roll over the bag with a rolling pin to crush the biscuits.
Add brown sugar, oil, and cinnamon to the crushed biscuits in the bag. Seal the bag again, and mush it around with your hands so all the crust ingredients get mixed together.
Pat a few spoonfuls of crust into the bottoms of 15 individual cupcake tins. (There will be some crust left over.) Set the cupcake tins aside - do not bake.
For the cheesecake filling:
Preheat oven to 350°F/180°C.
Add all cheesecake filling ingredients to a large bowl. Whisk until a smooth mixture is formed.
Pour the filling into the cupcake tins containing the crust until they are nearly full.
Bake the cheesecake cupcakes for 18-20 minutes, until set but not yet browned.
Turn the oven off, and leave the cheesecakes in the oven to cool. Once they have mostly cooled, open the oven door a crack and leave them to cool a bit more. Keep opening the oven door in stages until the cheesecakes are completely cooled.
Chill cheesecakes in the fridge for a few hours or overnight (they will not taste good until they have been chilled.)
Decorate the mini cheesecakes with the caramel shards right before serving.
Recommended Products
As an Amazon Associate and member of other affiliate programs, I earn from qualifying purchases.
Nutrition Information:
Yield:

15
Serving Size:

15 mini cheesecakes
Amount Per Serving:
Calories:

247
Total Fat:

9g
Saturated Fat:

4g
Trans Fat:

0g
Unsaturated Fat:

5g
Cholesterol:

27mg
Sodium:

120mg
Carbohydrates:

36g
Fiber:

0g
Sugar:

26g
Protein:

7g
Nutrition information was calculated by a third-party nutrition calculator.