This Israeli chicken shawarma brings all the flavors of the Middle East right to your kitchen! Savory chicken, fried eggplant, vegetables, hummus – all you need for a perfect shawarma that you can make at home!
So this recipe has been sitting in my "to blog" list for awhile. I just never got around to, you know, blogging it. No real reason, really. I'm just super lazy. (I guess that's reason enough in itself.)
In any event, the time has come for me to sit down and actually write up this recipe. (lol sit down and write up, that's funny) (I have a weird sense of humor ok). But before getting to the actual recipe, let's answer the question that I'm sure many of you are asking:
What is this shawarma thing, anyway?
So here's a funny thing: I had always thought that shawarma was a Middle Eastern/Arabic dish, but when doing some research before writing this post (yes, I actually do research and put work into this blog…), I discovered that shawarma originated in Turkey, in the Ottoman Empire. The more you know.
Anyway, shawarma is a huge vertical rotisserie spit of thinly sliced meat or poultry that is tightly packed in a huge cone. The shawarma meat is shaved off the spit and stuffed into a pita or laffa (Israeli flatbread) and smothered in hummus, tahini, fried eggplant, sliced vegetables, pickles, and french fries. And it tastes. so. good. omg.
In the mood for a different ethnic chicken recipe? Then try this Guatemalan Jocon! Or you can try these Lebanese Chicken Kafta Burgers!
That sounds like a Greek gyro.
Correct. It is very similar to a gyro. Not that I've ever eaten gyros, but that is what Google tells me.
If shawarma is made on a giant spit, how can you make it at home?
Well, obviously you can't make completely authentic, spit-roasted shawarma at home, unless you happen to have a giant spit just lying around. (We won't judge.) But with the correct spices and sauces, you can make an imitation that tastes pretty darn close! As my brother once put it when he walked into my place while I was cooking the chicken, "it smells like a shawarma store in here, you're just missing the smell of stale sweat."
Well, we're not adding sweat to our food, no matter how authentic it may make it smell. Sorry, Y.
Ok, I get the whole shawarma thing. But why is this "Israeli shawarma?" I thought you said shawarma is Turkish/Middle-Eastern?
Well. Israel is part of the Middle East, ya know. Just saying.
But also, there is a reason I am specifying it as Israeli. Due to kosher laws, Jews can't eat dairy products and meat products together. Shawarma is often served with a yogurt sauce, but that won't cut it, kosher-wise. Thus, shawarma in Israel usually skips the yogurt sauce and is served with lotsa hummus and tahini instead. Also, I am calling it Israeli chicken shawarma because I make it with chicken. (duh.) I've never made this with other types of meat, but hey, if you want to try it, I ain't gonna stop you.
And if you like this Middle Eastern chicken recipe, you'll love this Chicken Bastilla!
And now, the fun part: How to Make Israeli Chicken Shawarma
Disclosure: Product links may be affiliate, which means I get a commission if you click through and purchase. This does not affect the price of your item.
Step One: Marinate the Chicken Pieces
Take your boneless, skinless chicken breasts or deboned chicken thighs and cut them into little pieces. Kitchen shears are necessary for this step, in my not-so-humble opinion.
Once you've cut your chicken into small pieces, throw it into a ziploc bag and marinate it in oil, garlic, and some spices.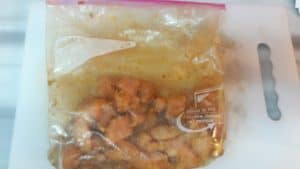 While you are waiting for the chicken to marinate, why not check out some of Creative Live's free online classes? They have topics ranging from photography to finances, so you are sure to find something that tickles your fancy!
Step Two: Fry the Eggplant
Take a medium-sized eggplant and slice it in half, and then into nice, thin circles. Heat a lot of oil in a large frying pan on high heat. When the oil is hot, carefully start adding eggplant slices to the pan. (Watch out, they will sizzle and oil may splatter!). Fry until dark brown on one side, and then flip them and fry 'em up on the other side. Using tongs will really help you here and save your fingers from oil splashes and burns.
Once the eggplant slices are finished frying, put them on a paper towel-lined plate to soak up some of the excess oil. (I'm not really sure why I bother, though; it's kind of a lost cause. These eggplant slices are basically little sponges full of oil. They taste soooo good though, and are an essential part of your shawarma sandwich.)
Step Three: Slice the Vegetables
Dice up some tomatoes, cucumbers, and pickles. (Pickles are a vegetable, right? Right?) Most shawarma places that I've been to in Israel only have tomatoes and cucumbers, but if you want some other veggies in your shawarma sandwich (i.e., if you are pretending to be healthy), then feel free.
Step Four: Bake the Chicken
After the chicken has marinated a bit, spread it out in a single layer in a pan or baking tray. Bake it at 350 until cooked through. If you plan this right (i.e., started marinating the chicken earlier in the day), you can bake the chicken while frying the eggplant or slicing the veggies. Hurray for multitasking!
Step Five: Assemble the Shawarma
Cut open your pita or spread out your laffa (if you are able to get your hands on laffa or make your own, it tastes so much better and is much easier and neater to assemble. Just saying.) Spread a generous layer of hummus on the laffa/in the pocket of the pita. Add a little bit of s'chug (Israeli hot sauce) onto the hummus, if you like a bit of a kick. Layer on your chicken, fried eggplant, pickles, and vegetables. Pour tahini over the whole thing. If using a laffa, roll it up like a wrap.
And that's your full Israeli Chicken Shawarma sandwich, fully assembled!
(Or you can be a lazy bum like I was in this picture and just put all the components on a plate…)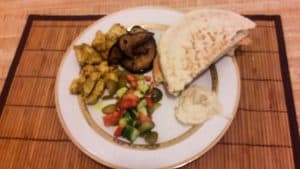 Enjoyed this recipe? Here are some others to try!
Pin this recipe for later!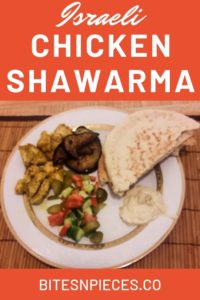 Israeli Chicken Shawarma
Total Time:
2 hours
30 minutes
This Israeli chicken shawarma brings all the flavors of the Middle East right to your kitchen! Savory chicken, fried eggplant, vegetables, hummus - all you need for a perfect shawarma that you can make at home!
If you enjoy this recipe, please give it a five star rating!
Ingredients
For the chicken:
1 lb boneless, skinless chicken breast
1 tbsp sugar
1 tsp curry powder
1/2 tsp cumin
1/2 tsp coriander, optional
4 tbsp oil
4 cloves garlic, crushed
For the eggplant:
1 medium eggplant
oil for frying
For assembly:
1 cucumber, diced
1 tomato, diced
2 pickles, diced
4 pitas or laffas
hummus
tahini
s'chug (hot sauce), optional
Instructions
For the chicken:
Cut the chicken into bite-sized pieces. Use kitchen shears for best results.
Add chicken pieces and all marinade ingredients to a Ziploc bag. Zip the bag and mush it around with your hands a bit to spread marinade evenly over all chicken pieces. Marinate for two hours, or as long as you have.
Preheat oven to 350 F. Spread the chicken pieces onto a baking pan and bake until cooked through, around 20 minutes.
For the eggplant:
Heat a lot of oil in a large frying pan over high heat.
Slice eggplant in rings.
Add eggplant to the hot oil. Fry on one side until dark brown, and then flip to the other side. (Using tongs will make this much easier). Fry for a few additional minutes until the bottom is browned.
Remove fried eggplant slices to a paper towel-lined plate to cool.
For assembly:
Cut open a pita or spread out a laffa. Smear hummus generously in the pita pocket or over the laffa. Add a bit of s'chug, if you are using.
Layer on the chicken pieces, fried eggplant, cucumber, tomato, and pickles.
Pour tahini generously over the whole thing. If using a laffa, roll it up like a wrap.
Recommended Products
As an Amazon Associate and member of other affiliate programs, I earn from qualifying purchases.
Nutrition Information:
Yield:

4
Serving Size:

4 Servings
Amount Per Serving:
Calories:

686
Saturated Fat:

5.9g
Trans Fat:

3.8g
Cholesterol:

110mg
Sodium:

1290mg
Carbohydrates:

38.08g
Fiber:

9.9g
Sugar:

10.57g
Protein:

42.74g