Unstuffed cabbage: all the taste of stuffed cabbage rolls, with a fraction of the work. Make it with a bag of coleslaw mix so you won't have to slice a head of cabbage (although if you do want to slice your own cabbage, check out the handy-dandy YouTube video below)! This amazing ground beef and cabbage recipe is sure to please every palate!
Hello everybody! Today we are discussing everyone's favorite food – stuffed cabbage!
What? You mean stuffed cabbage isn't your favorite food? Are you sure? Are you feeling okay? Maybe you woke up on the wrong side of the bed today?
No? So I'm the one with the weird stuffed cabbage obsession? Hm…
Listen, I can't be the only one with fond childhood memories of stuffed cabbage. In the Jewish tradition, there are certain holidays when it is traditional to eat stuffed cabbage. I remember going to synagogue excitedly on those days, waiting for the communal meal where the sweet bites of cabbagey goodness would be served.
And yes, I said sweet. I see that a lot of stuffed cabbage recipes online are not sweet, and to me, that just seems wrong. What's the point if it's not sweet and slightly savory at the same time?
Anyway. I've always liked eating stuffed cabbage, but I was always too scared to make it. I mean, stuffing and rolling cabbage leaves? Are you serious? That seems like waaaay too much work for me.
That's where unstuffed cabbage comes in. Unstuffed cabbage is basically deconstructed cabbage rolls. You have all the components of traditional stuffed cabbage rolls: cabbage, ground meat, rice, tomato sauce. But it's all in a much more user-friendly (or maker-friendly) format.
I take the laziness – I mean, times-saving kitchen hacks – one step further in this recipe, and use pre-sliced coleslaw mix, so there is no need to slice your own cabbage.
But! If you do want to slice your own cabbage, it's actually not that difficult.
Disclosure: Product links may be affiliate, which means I get a commission if you click through and purchase. This does not affect the price of your item.
How to slice cabbage
Since cabbage leaves are so tightly packed together, if you just make thin slices down the entire head it will separate into beautiful thin shreds of cabbage.
This YouTube video explains it a lot better. And it's strangely hypnotizing to watch him slice up all that cabbage so quickly…
What goes with stuffed cabbage?
Rice. Rice is what goes with stuffed, or in this case unstuffed, cabbage. Yes, there is rice in the meat mixture inside. But if you want a side dish to soak up the yummy sauce, then rice is it.
No? You don't want just rice? Then here are some other ideas:
How do you make Unstuffed Cabbage?
Step one: wilt the cabbage
Put the coleslaw mix or sliced cabbage (if you are using fresh cabbage, use around half a head, or to taste) in a deep pot with some oil and salt. Heat it up, and stir occasionally, until the cabbage reduces waaaaay down because all the liquid cooked out of it.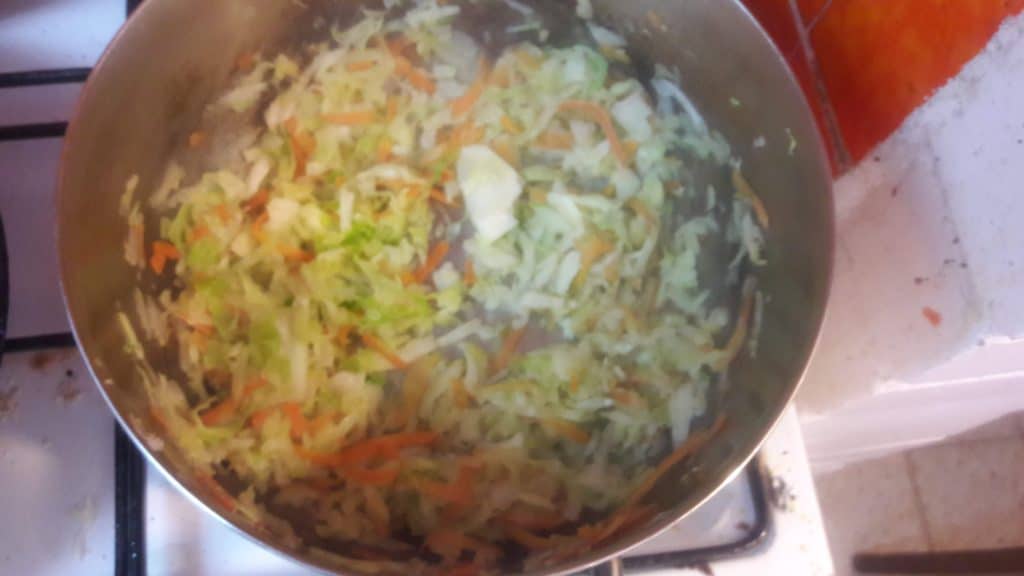 Step two: make the meat filling
While the cabbage is wilting, start making your meat mixture. Mix your ground meat with egg, onion, spices, water, and some raw rice.
Yup, raw rice. It will absorb the liquid and sauce in the pot and get nice and soft, don't you worry. No need for instant rice, either. Plain ol' rice is fine. I have never tried this with brown rice, but it should work. You may need to cook it for slightly longer, so check one meatball after an hour and see if the rice in it is hard. If it is, dump it back into the pot and simmer it some more.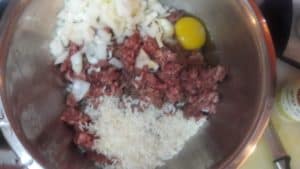 Step three: make the sauce
Okay, this isn't so much a "make the sauce" step. It's more a "dump all the sauce ingredients into the pot" step. Because that's basically what you do: add tomato paste, water, sugar, and spices to the wilted cabbage.
This recipe calls for a lot of sugar. As mentioned above, in my book, stuffed cabbage needs to be sweet. If you have a problem with that (wow that sounds unnecessarily argumentative) then feel free to cut down on the sugar.
Step four: form the meatballs and add them to the pot
This step is pretty straightforward. Form the meat mixture into roughly golf ball sized meatballs. The meat mixture is pretty delicate, and the meatballs may not stick together that well. That's okay. Your unstuffed cabbage rolls will still taste amazing, don't worry.
The meatballs may also look kinda strange, with little points of rice and onions sticking out all over. No worries; as mentioned above, the rice will get cooked, and the onions will get soft, and your final meatballs will look fine, I promise.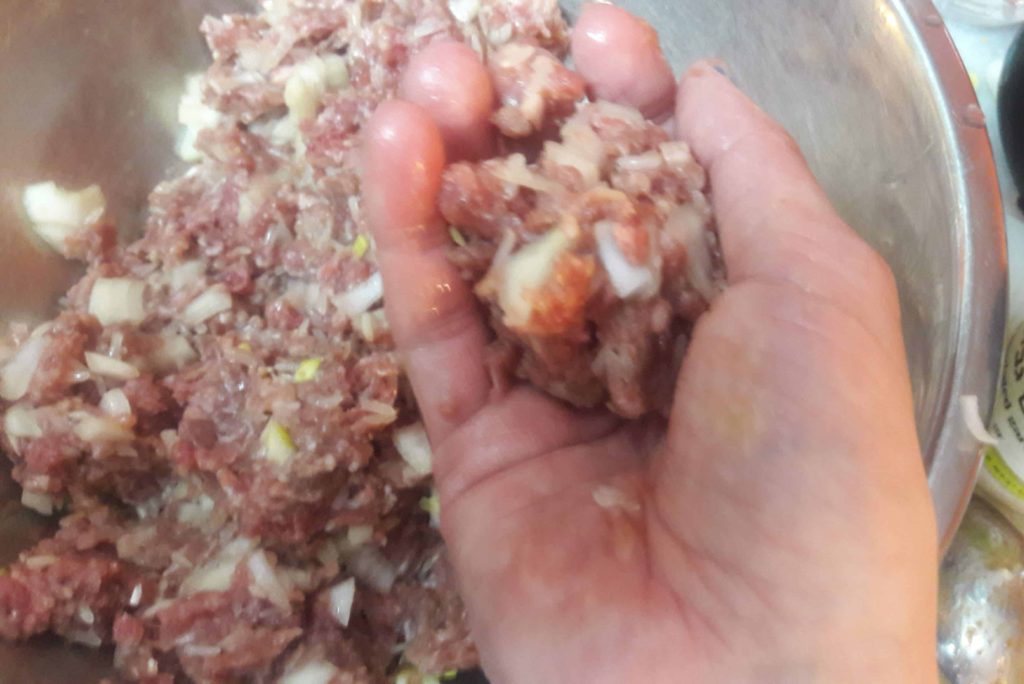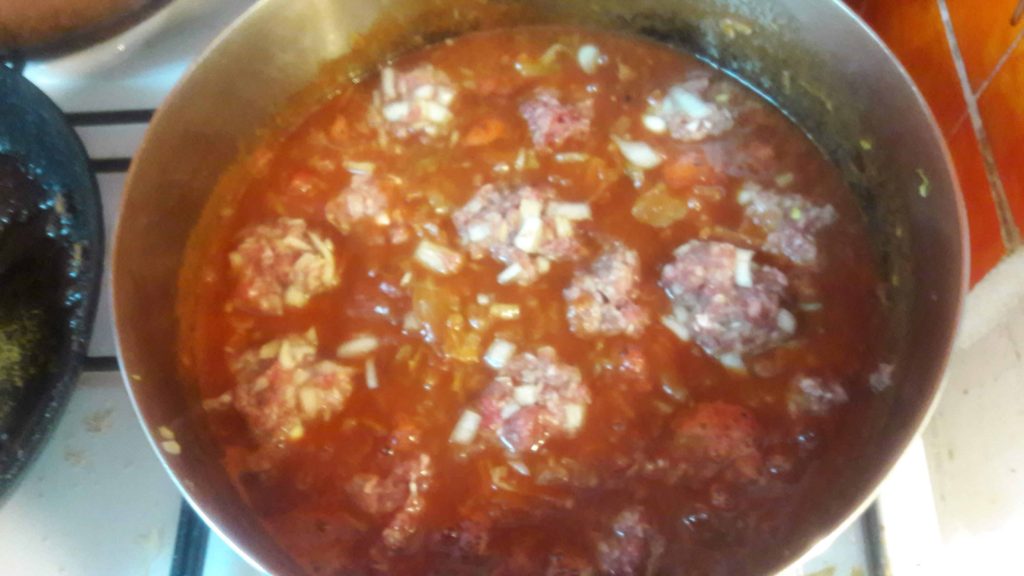 Step five: simmer it up for an hour
You want to give your cabbage time to get nice and soft, and for rice to cook, and for the flavors to meld and taste amazing. So no, this is not a "15 minute cabbage and ground beef skillet recipe" like some other unstuffed cabbage recipes are. (But this one tastes way better. Just sayin'. And I'm totally not biased or anything.)
And that's it! Deliciously traditional stuffed cabbage rolls, except they are not stuffed, and they are not cabbage rolls. Whatever. You get the point. It tastes like they are, which is all that matters.
If you enjoyed this recipe, make sure to share it with all your friends, relatives, acquaintances, and all the strangers on the street!
Pin this recipe to save it for later!
Check out some other meat and chicken recipes!
Unstuffed Cabbage
Total Time:
1 hour
10 minutes
Unstuffed cabbage: all the taste of stuffed cabbage rolls, with a fraction of the work. Even better - make it with a bag of coleslaw mix so you won't have to slice a head of cabbage! This amazing ground beef and cabbage recipe is sure to please every palate. If you enjoy this recipe (and I'm sure you will) please give it a 5 star rating by clicking the stars below!
Ingredients
For the Cabbage
1 1 lb bag coleslaw mix, or half a head of cabbage, sliced
1 tbsp oil
1/2 tbsp salt
For the Meat Mixture
1 lb ground meat (can use chicken or turkey as well)
1 egg
2 tbsp water
6 tbsp raw rice (1/4 + 1/8 cup)
1/2 medium onion, diced
salt, pepper, garlic powder, to taste
For the Tomato Sauce
2 cups tomato paste (500 grams)
2 cups water
3/4 cup sugar, or to taste
1 tbsp lemon juice
Instructions
Wilt the cabbage:
Add the oil, coleslaw mix, and salt to a deep pot over medium-high heat. Leave it on the heat, stirring occasionally, until the cabbage has wilted, around 10 minutes.
Make the meat mixture:
While the cabbage is wilting, start preparing the meat mixture. Add ground meat, egg, water, rice, onion, and spices to a mixing bowl. Mix by hand until all ingredients are incorporated.
Form the meat into golf ball sized balls, and place them in the pot with the cabbage and tomato sauce (instructions below)
Make the tomato sauce:
Once the cabbage has wilted, add tomato paste and water (or canned tomato sauce). Add the sugar and lemon juice, and stir to combine.
Gently place the meatballs into the pot with the tomato sauce and cabbage.
Cover pot and simmer over low heat for an hour.
Notes
The meatballs will be very delicate, even after they are cooked. If you prefer, you can just crumble the meat mixture into the tomato sauce, without forming into balls. It will still taste good, I promise.
Recommended Products
As an Amazon Associate and member of other affiliate programs, I earn from qualifying purchases.
Nutrition Information:
Yield:

6
Serving Size:

6 servings
Amount Per Serving:
Calories:

712
Total Fat:

31g
Saturated Fat:

9g
Trans Fat:

1g
Unsaturated Fat:

19g
Cholesterol:

156mg
Sodium:

1032mg
Carbohydrates:

68g
Fiber:

7g
Sugar:

46g
Protein:

42g
Nutrition information was provided by a third-party nutrition calculator.