This no vodka vodka sauce is a quick and easy, kid friendly recipe that tastes even better than the classic penne alla vodka.
Recipe originally published in August 2018 and updated in August 2020 to provide more detailed instructions and better photos.
I've been getting feedback from some readers to please cut back on the peanut butter recipes (I know, I can't understand it either). And you know what they say, the customer is always right (even though in this case they are clearly wrong). So, as a change, I present to you:
Penne alla no vodka
Also known as
Copycat penne alla vodka
I first tasted this at a get together a neighbor made, a sort of "get to know your neighbors in your apartment building" type event, where everyone made awkward small talk for an hour or so, smiled, promised to keep in touch, and left, never to speak again.
One neighbor brought this penne alla no vodka, and the entire building became obsessed, got the recipe, and started making it.
This is relevant why?
Because I used to make it at home and just tell my then three year old that I'm making noodles with red sauce, because what does he know from penne and vodka. But one of our neighbors was his preschool teacher that year, and he came home from preschool one day saying,
"Mommy, we made penne in school today. You need to call the teacher and get the recipe!"
So I called the teacher, and she started laughing, because it was the exact same dish that I made. My son just didn't recognize the fancy name.
And the point of that whole introduction was to tell you guys that this copycat penne vodka is really yummy. Even three year olds can tell.
Here we go:
Ingredients
Heavy cream
Tomato paste or canned tomato sauce
Fresh garlic
Butter
Salt
Method
Fry a few cloves of sliced garlic in butter (my family loves garlic so I usually use around five cloves. The original recipe calls for 3-4 cloves)
Add equal amounts of heavy cream and canned tomato sauce (for a one pound bag of pasta, I usually do five cloves garlic, as mentioned above, and 250 ml each of heavy cream and tomato sauce)
Add salt to taste
Simmer for a few minutes to thicken
Serve over penne (if you wanna be traditional) or any other pasta (if you're a rebel like me) (just kidding, my husband usually buys penne, but for some reason he didn't this time) (I actually think curly pasta is better for this because the no vodka vodka sauce gets into all the little spirals and cracks and makes it much more flavorful)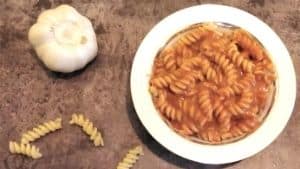 And that's it! A super simple, super flavorful, penne alla no vodka no vodka vodka sauce (how many times in a row can I say no vodka??)
Try serving this copycat penne alla vodka with some homemade mozzarella sticks or cinnamon buns for a dinner your kids will absolutely love!
No Vodka Vodka Sauce
This no vodka vodka sauce is a quick and easy, kid friendly recipe that tastes even better than the classic penne alla vodka.
Ingredients
1 lb pasta, cooked and drained
2 tbsp butter
3-4 cloves garlic, sliced
1 cup (250 ml) heavy cream
1 cup tomato paste
salt, to taste
Instructions
Cook pasta according to package directions and set aside.
In a small saucepan over medium heat, melt butter. Add the sliced garlic and saute until garlic is soft and lightly browned.
Add tomato paste, heavy cream, and salt.
Bring to a boil and then simmer for a minute or two.
Serve sauce over cooked pasta.
Notes
I'm a rebel and use any shape pasta when making this sauce, not just penne. Sue me.
Nutrition Information:
Yield:

6
Serving Size:

1
Amount Per Serving:
Calories:

209
Total Fat:

7g
Saturated Fat:

4g
Trans Fat:

0g
Unsaturated Fat:

2g
Cholesterol:

16mg
Sodium:

156mg
Carbohydrates:

32g
Fiber:

3g
Sugar:

6g
Protein:

7g
Nutrition information was calculated by a third party.
Love this recipe? Then why not try…
Penne with Tomato Ricotta Sauce
Honey Cake
Skillet Banana Bread
Unstuffed Cabbage
Hot Dog Stir Fry
Pin this recipe for later!