This skillet banana bread is moist, dense, and flavorful – really everything you need in a banana bread. Enjoy it with your morning coffee for a delicious breakfast! You can also bake them as banana muffins for an easy grab-and-go treat!
So apparently, baking banana bread has become all the rage during this Covid19 quarantine craziness. I am fully on board with this trend. Banana bread is delicious, and should be enjoyed by as many people as possible, as often as possible.
(Of course, there are those crazies who don't like banana bread slash banana cake. Like my darling husband, the first time he came to my parents' house, proclaimed after eating a piece, "banana doesn't belong in cake.")
But let's ignore those negative people. Let them miss out on the banana bread. That just leaves more for you.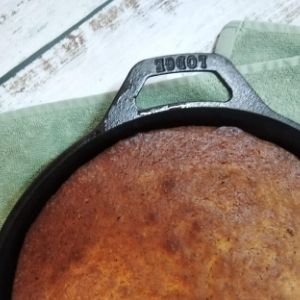 Banana Bread or Banana Cake?
Growing up, we always called the banana-baked-food-item a banana cake. My mother would make a banana-based frosting to go on top of it, and it was a wonderful dessert.
Now that I am immersed in the world of food blogging (and now that I have seen all the Covid19 baking memes…), I have discovered that most of the world calls this banana bread, not banana cake.
Apparently there is something called a quick bread, which basically is a baked good that doesn't use yeast, but instead baking soda to help it rise. They are called "quick" because they need to be baked immediately after mixing, and don't need to be left to rise. (see here for more info)
That seems pretty cool and all, but it kind of leaves me scratching my head. Like, birthday cake has baking soda in it. Does that mean birthday cake is bread? Can I cut pieces of birthday cake and use it to make a sandwich?
But my misgivings don't really affect the world, so "banana bread" it is.
Disclosure: Product links may be affiliate, which means I get a commission if you click through and purchase. This does not affect the price of your item.
Why do you bake the banana bread in a cast iron skillet?
Because cast iron skillets rock. They are my new obsession.
But also because the heavy iron bottom of the pan helps bring heat to the center of the cake and helps it cook evenly. I find this really helpful, especially for cakes with thick batter, like this one. You don't need to worry about the middle being raw and the sides being overdone.
Don't have a cast iron skillet? Grab one here!
How do you make skillet banana bread?
Step 1: Mash your bananas
Mash up one cup of bananas (around 2 large bananas, but it really depends on their size. Easiest to just break them up and throw them in a measuring cup…)
I find that frozen bananas work beautifully in this recipe, and actually make the final product moister. Anytime you have a banana starting to go brown, just pop it in the freezer, and then just pull the frozen bananas out whenever you're ready to bake!
Defrost the bananas either by leaving them out for a bit or sticking them in the microwave for a few seconds at a time until they are soft enough to mash.
I love using my silicone measuring cup for this – you can measure, microwave, and mash, all in the same cup!
Step 2: Mix your wet ingredients
Mix together eggs, oil, sugar, then add water, vanilla, and the mashed bananas.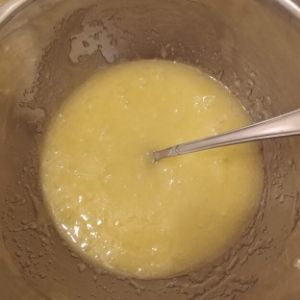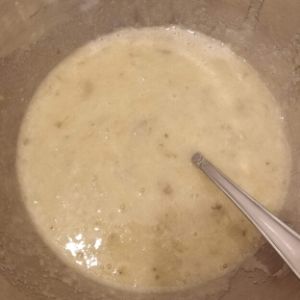 Step 3: Add dry ingredients
Add flour, baking soda and powder, and salt. Pour the baking soda, baking powder, and salt on top of the flour, and mix them quickly into the flour before mixing the flour into the rest of the batter.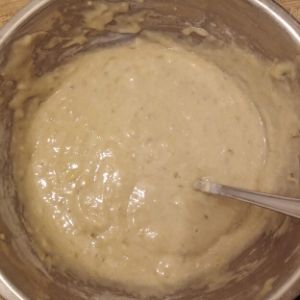 Step 4: Grease skillet, add batter, and bake!
Exactly like it sounds…
And that's it!
If you like this recipe, you might also love:
Stuffed Chicken
Shawarma
Hot Dog Stir Fry
Oatmeal Cookies
Chocolate Chip Cookies
Skillet Banana Bread
This skillet banana bread comes out perfect every time - moist, dense, and flavorful. Enjoy it with your morning coffee for a delicious breakfast, or bake it as muffins for a quick grab-and-go treat!
If you enjoy this recipe, please rate it five stars.
Ingredients
2 eggs
1 cups sugar
1/2 cup oil
1 cup mashed bananas (around 2 large bananas)
1/4 cup water
1 tsp vanilla
2 cups flour
3/4 tsp baking soda
1/4 tsp baking powder
1/2 tsp salt
Instructions
Mix together eggs, sugar, and oil. Add mashed bananas and the rest of the wet ingredients, and mix to combine.
Add flour, baking soda and powder, and salt. Mix well.
Grease a 9 or 10 inch cast iron skillet and pour in the batter.
Bake at 350F/180C for 30-35 minutes, until deep golden brown and a toothpick inserted in the center comes out mostly clean, with only a few crumbs sticking to it.
Notes
1. If you don't have a cast iron skillet, you can use a 9x9 inch square pan.
2. To bake as muffins, grease and line a cupcake tray. Batter makes 12-15 muffins, depending on how much you fill them. Bake at 350F/180C. Start testing if they are done after 15 minutes, and then every 5 minutes until they are ready. (It should take 25 minutes max.)
Recommended Products
As an Amazon Associate and member of other affiliate programs, I earn from qualifying purchases.
Nutrition Information:
Yield:

12
Serving Size:

1
Amount Per Serving:
Calories:

253
Total Fat:

10g
Saturated Fat:

1g
Trans Fat:

0g
Unsaturated Fat:

9g
Cholesterol:

31mg
Sodium:

199mg
Carbohydrates:

37g
Fiber:

1g
Sugar:

19g
Protein:

3g
Nutrition information was calculated by a third party.
Pin this recipe for later!