Disclosure: Product links may be affiliate. This means I earn a commission if you click through and purchase. This does not affect the price of your item.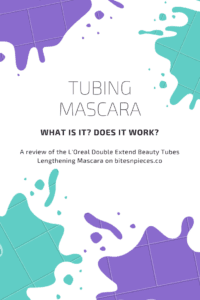 So I was watching a Tati video one day on YouTube and she mentioned something along the lines of, "and if you don't want to kill your lashes with waterproof mascara every day, try a tubing mascara." (I am definitely misquoting her here. It was something along those lines, but I don't remember exactly. Please don't shoot me.) And I immediately thought, what is tubing mascara? Sounds like something I should check out.
Off to Google I went. Let's see, tubing mascara, tubing mascara… here we go:
Unlike conventional mascaras which paint lashes with pigment, tubing mascaras create water-resistant, tube-like enclosures around each individual lash.
Source: The 9 Best Tubing Mascaras for Long, Smudge-Proof Lashes | Allure
Mind. Blown. You mean the mascara makes these little tubes around your lashes?

Ok, fine, not magic.
That is so cool! I need to get me one of those!
The best-priced, best-reviewed tubing mascara available on Amazon at that time (because why would I order from somewhere other than Amazon?) was the L'Oreal Paris Cosmetics Double Extend Beauty Tubes Lengthening Mascara
. I immediately ordered it.
(What? I needed to check it out! For science!)
(Ok, I needed to buy a new mascara anyway…)
I've had it for a few months now, and figured I have enough thoughts on it that I should write a review of it.
(Also I like hearing myself talk.)
(But isn't that what a blog is for? Hearing yourself talk?)
What does the tubing mascara look like?
The mascara comes in a double-ended tube.
You are supposed to apply it in two steps: first coat your lashes with the white end, then cover that with the other end.
At first I was a bit annoyed at that; why would I want white on my lashes? I'm not such a mascara-applying-expert that I can be sure I'll cover every bit of the white stuff. In reality, though, it's not such a big deal to make sure the white is all covered. And if I can do it, then anyone can.
So, on to the burning question everyone is dying to have answered (and if not, you can pretend you are dying for an answer. It will make me feel better):
Does tubing mascara work?
Yes. Yes it does. When I put it on, I can literally see my lashes getting longer. I am not using literally in the way that everyone does nowadays (I'm so hot I'm literally dying), but in the true dictionary definition of the word: I actually see my lashes getting longer. It's insane. The stuff really works.
To remove tubing mascara, you need to rub your lashes with some warm water. The first time I wore the mascara, I was like whatever, I have other eye makeup on anyway, I guess the mascara will come off as well.
But I guessed wrong. Traditional makeup remover will not remove tubing mascara. You need to get it wet and gently rub. Everything I read online said, "you will see little tubes coming off your lashes!!" and I was really excited for that part. It doesn't really come off in tubes, though. More like stringy little pieces of gunk. That could just be this specific tubing mascara, though.
What I like about the Loreal Double Extend Beauty Tubes Lengthening Mascara
1. It makes my lashes look super long
2. It does not smear and leave "raccoon eyes"

What I don't like about it
(I'm not re-typing the whole name. Why do makeup products always have such long names? It's really annoying…)
1. The two-step application. Yes, I said above that covering the white with the black isn't actually such a big deal. I'm just really lazy, ok? I don't want to have to open and apply two different sides of the mascara.

2. It takes a little while to come off. Yes, it comes off easily when rubbed with water, but I feel like whenever I wore this mascara I had to rub over my lashes a few times to get all the little pieces off. And at that point, I start to wonder if this is really better for my lashes than regular mascara + makeup remover…
3. How little product you get. Each side of this L'oreal mascara comes with .16 ounces of product. My essence Lash Princess False Lash Effect Mascara
has .4 ounces. The COVERGIRL LashBlast Volume Mascara
has.44 ounces of product. That makes the Loreal one look really skimpy…
Product grade: B+
Some other tubing mascaras available on Amazon, for comparison purposes:
DHC Mascara Perfect Pro Double Protection

It's So BIG Volumizing Mascara by Elizabeth Mott

Boots No7 Stay Perfect Mascara
Take Care!
-B
Coming soon: Chicago Deep Dish Pizza at Home. Stay tuned!
Don't forget to follow Bites 'N Pieces on twitter @bitesnpiecesco and on Pinterest pinterest.com/bitesnpiecesdotco